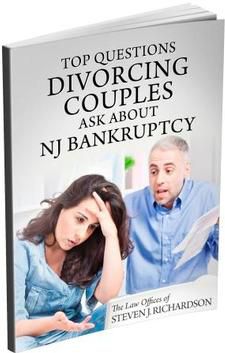 Get the book that answers the questions you have about whether bankruptcy could help or hinder your New Jersey divorce.
People getting divorced are often in financial trouble. In fact, that trouble is often the cause of the divorce! Because of this, they have a lot of questions about whether bankruptcy can help them solve their marital debt problems, or whether their spouse's bankruptcy could cause a problem! My new free book, Top Questions Divorcing Couples Ask About NJ Bankruptcy, is an excellent way to get the answers to those questions. If these are some of the questions that you have, this book is for you:
Q. How will bankruptcy help my divorce?
Q. Do we both have to file?
Q. Will a bankruptcy hold up my divorce?
Q. Should I file now or wait until the divorce is over?
Q. What do I do if my spouse files owing me alimony or child support?
Q. Will we lose the house if we file?

I want to make sure that my clients are fully informed about the advantages and consequences of filing bankruptcy and feel comfortable taking this big a step. That is why I wrote this free book.

Order it now and get the answers you need!

Fill out the form below to request your FREE copy - you'll receive it IMMEDIATELY: