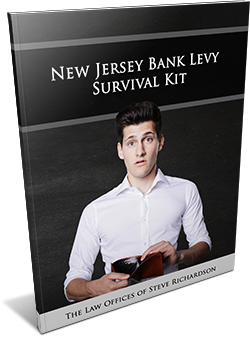 If you have creditors hounding you for payment, then you are probably dealing with phone calls, or worse, lawsuits! You don't have the money to pay them, but they keep on coming, and you don't know what to do. Then, the worst happens: A creditor levies your bank account, and all the money you have to pay bills has been frozen! What do you do?
What most New Jerseyans don't know is that there is a way out of this! There are rules for bank levies that creditors have to follow and can often get you some, if not all, of the levied money back! Did you know that you can get back up to $1,000 of levied funds? Did you know that creditors can't keep money in a bank account that is from:
Social Security Benefits (Retirement or Disability)
Unemployment Benefits
State Disability Benefits
VA Benefits
Child Support
Many, Many Other Sources?
If you have money tied up in a levy and need it back, then you need this free Survival Kit! Download it to find out how YOU can file with the court to get some, if not all, of the money back, without hiring a lawyer!