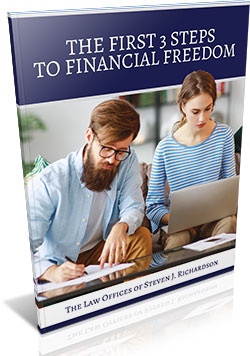 Get the book that tells you how to break the paycheck-to-paycheck cycle, gain control of your money, and reclaim your financial future!
The American Dream is all about Financial Freedom, being able to do what you love while having the money to live like you want. It means having positive cash flow, money in the bank for unexpected expenses (or just fun!), a plan for retirement some day, and not having to worry every day about meeting your financial obligations. I talk about it a lot on my podcast!
Financial freedom is a journey, though, not a destination, and like any journey, it starts with the first step. But many Americans are struggling with that first step because:
There never seems to be any money in the bank at the end of the month
(Because) They can't figure out where all the money goes?
Their money is controlling them because they can't seem to control their money
They can't seem to make more than the minimum payments on their credit cards, so the balances never go down
Does this sound like you? Are you looking for the solutions to these problems?
Then you need to download and read my free book, The First Three Steps to Financial Freedom. If you do, you will discover:
How to wrangle your money into a workable budget
Where the money goes every month
How to reduce your spending
How to get more income if you just don't have enough to pay the bills
Various debt repayment plans that do not involve bankruptcy!
Yes, you read that right: A bankruptcy lawyer is going to help you find a way to avoid filing bankruptcy! So download this book before I come to my senses and take it off the site!
Don't wait to start your journey to financial freedom!