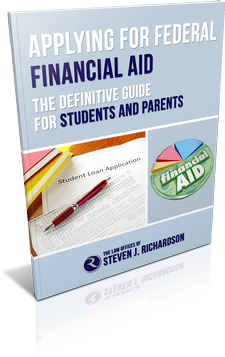 Get the book that helps you navigate the financial aid application process.
Are you, or your child, looking for financial aid to help pay for college? If so, the whole process probably seems daunting and overwhelming. There are so many programs for loans, grants, and scholarships that it can be hard to know if you are choosing the right one for your circumstances. Student loans are the fastest growing type of debt in America today, and people all over are struggling to afford the payments, can't afford them, or are in default. You don't want to be one of them! For this reason I wrote.My new free book, Applying for Federal Financial Aid: The Definitive Guide for Students and Parents. It provides information like:
Top 7 Mistakes Made Filling Out the FAFSA
5 Must-Do Things After Filling Out the FAFSA
The Best Financial Aid Options for College
Why Federal Loans Are Better Than Private Ones
Using Grants to Minimize Post-Graduation Debt
This book will give you the information you will need to feel confident about the application process.

Order it now and get the answers you need!