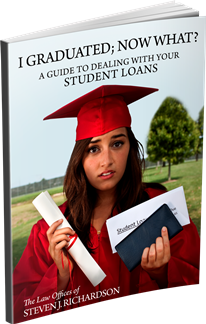 Get the book that tells you how to deal with your student loans in New Jersey.
Student loans are the fastest growing type of debt in America today and currently stands at over $1 trillion nationally! People all over are struggling to afford payments, can't afford them, or are in default. For this reason people have lots of questions on what to do. My new free book, I Graduated; Now What? A Guide to Dealing with Your Student Loans is a great way to get the answers to questions like:
Q. How Do I Stop an Administrative Wage Garnishment?
Q. How Do I Keep Them From Taking My Tax Refund?
Q. How Do I Get Out of Default?
Q. Can I Get an Affordable Monthly Payment?
Q. Can I Discharge the Loans in Bankruptcy?
This book will give you the information you will need to answer the questions you have about what you face, what your rights are, and how to survive the experience.

Order it now and get the answers you need!