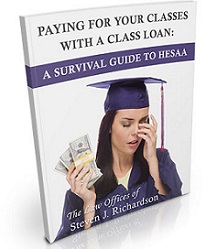 Are Family Gatherings and Holidays Tense Because a Parent Cosigned?
Have you been saddled with a mountain of debt and a tough job market, wondering whether you will ever be able to afford a house or even to get married? Are you struggling with payments, seeking the protection of a forbearance or deferment, or watching your loans slip into default? Are you already in default?
If you are, then your life will (or has) become very stressful for you if they sue you. This is particularly bad because one or both of your parents have usually cosigned for you, and are now facing the consequences as well. Do you dread:
The next Thanksgiving dinner?
That Fourth of July cookout?
Christmas or Easter Dinner, Passover Seder or Hannukah Party?
Then imagine how much worse it would be if as a result of that lawsuit, their wages were garnished, bank accounts were levied, or tax refunds were taken away? You need to act quickly!
Get the Free Book That Tells You Your Options!
Don't think that there is nothing you can do, and that you are just destined to suffer from neverending endebtedness for your education! Find out more about:
Loan Refinancing
Loan Consolidation
Deferments and Forbearances (to avoid default)
Discharge for Death or Disability of the Student Borrower
Discharge in Bankruptcy
Act Now! Don't Wait Until You or Your Parents Fall Victim to Bank Levy or Wage Garnishment!